Key Features of Backup for Google Apps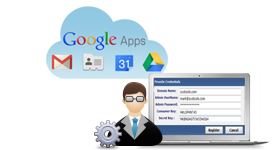 Domain Users Option
In case as an admin of domain you want to download all the items of all users of that particular domain this option lets you download all the data without any requirement of Domain users' credentials. User needs to put Admin credentials only.
Note: Calendar will not be downloaded with this option.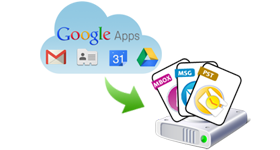 Multiple Email File Support
Multiple Google Apps email file saving as EML, MBOX, MSG, PST are provided for backing up mail data on local machine.
PST: It will have all the items; emails, Contacts and Calendar.
EML/MSG/MBOX: Emails in EML/MSG/MBOX format and contact & Calendar in VCF & ICS format respectively.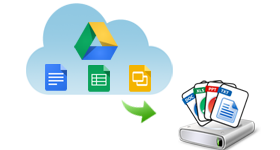 Google Drive Backup
User can take backup of Google Apps documents (Drive) like: spreadsheets, documents, presentations etc. into MS Office file format and Video into .mov, .avi, Images into .jpeg, .gif, .png & Other .pdf, .psd, etc. It will be downloaded Spreadsheets as .xls, .xlsx, Documents as .doc, .docx, Presentations as .ppt, .pptx.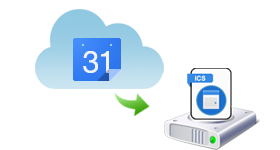 Backup Google Apps Calendar
Download Google Calendar as iCalendar saved in ICS file format that will permit you sharing the schedules, appointments, meetings etc via email.
You can import ICS file to Apple iCal, IBM Lotus Notes & MS Outlook and Calendar utility.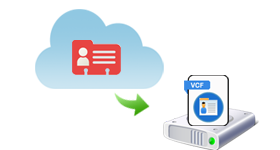 Backup Google Apps Contacts
Now export Google Contacts as vCard VCF file effectively with their contact fields like name, phone, address, email ID, URL, FAX, company name etc remain intact. User can import VCF file into MS Outlook, Outlook Express, iPhone, android phone, Mac Outlook etc.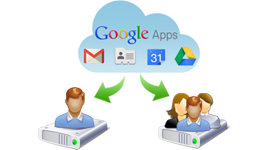 Single/Multiple Users Backup
Multiple users backup service offered by the tool can be availed via Import CSV option or via Domain Users option.
You can back up data of a single user account. Provide the login details; Username & Password of the respective account and proceed for backup.
Simple steps to create backup of Google Apps
Follow the helping steps to backup complete Google Apps data and see how software helps you to create backup for entire Google Apps accounts in a go.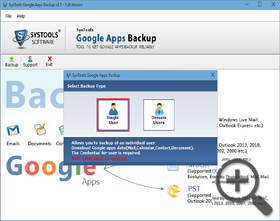 Choose User(s) Backup Mode
To begin; choose the desired medium of backup i.e. Single User, Import CSV, or Domain Users to backup data accordingly from desired account(s).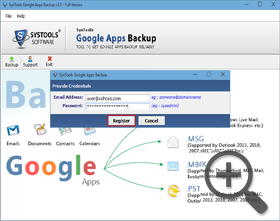 After selecting one credential account, now fill Google Apps credential account like domain name, user/admin name, user/admin password.

Online free video – know how to backup of Google Apps!!
What our customers say...

Marcus Lee
I have used backup for Google Apps software and I am very happy with its performance as none of my Google App emails and other important documents & Contacts were lost while the transfer data. Moreover the video provided and the interface itself guided me well to take necessary steps.

Scott Buehler
The ready to access data is always our dream and to get the data from Google Apps available on my system to access them anytime I downloaded the tool & it did exactly the right thing what I was searching for. 24x7 our support executives are also highly helpful when technical queries are asked to them.
Start a free trial version before purchasing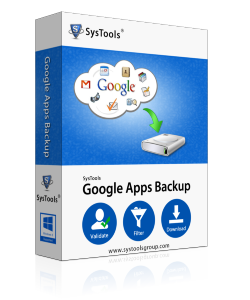 Demo Version of tool will allow users to create backup of email, Calendar, Contacts, sheets, etc in the desired format. The only limitation is that, one can backup 100 email items & 25 other items (Contacts, Calendar & documents) using the free of cost trial edition. For taking full backup of Google Apps data you need to PURCHASE Full version.
Size: 16.9 MB Version: 3.0